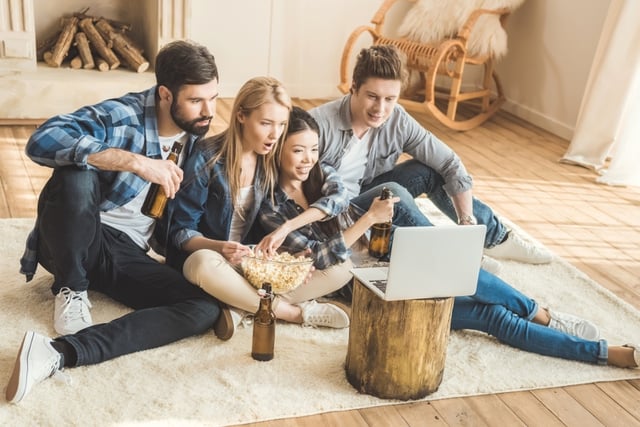 Hosting a live party for All Day DevOps 2017 is a great way to make the online and free conference a total community experience, not just an online lecture. Get a group of your colleagues together, set up a projector screen, order some pizza (or any other food/drink you wish), and watch the conference together as a group.
Last year, Mike Fauzy and Demetria Robertson of FauzyLogic (Las Vegas, NV) held a party for All Day DevOps, and I got the opportunity to talk to them about it and hear about any advice they may have for anyone trying to host one this year.
They coordinated their efforts with Syn Shop, the local hackerspace in Las Vegas, Nevada, and advertised the event on the FauzyLogic site as well as through Meetup. On the day of, they brought in fresh donuts and coffee in the morning followed by beer, popcorn, pizza, and soda in the afternoon, because everyone knows that snacks make everything even better.
Demetria mentioned that the All Day DevOps party was a great way to get everyone talking about the conference, adding that "incorporating interactive and social components made the event more enjoyable and people [even] had better retention for those topics."
But how did they do it?
It was really easy; they held the party from 9am to 5pm PST and had guests vote on which sessions to watch on the big screen, so that everyone got to view a fair share of the talks that they were most interested in. After each session, if there was enough time, they would break up into in roundtable discussion groups. Demetria and Mike said that the talks that generated some of the most lively discussion were:
Overall, the event was a success, and they had so much fun last year that they are doing it again for All Day DevOps 2017. If you're in the Las Vegas area and want to join the party, it'll be held at the same time and place as last year (9am-5pm PST at 1075 American Pacific Dr Suite C Henderson, NV 89074), because why fix what isn't broken?
If you want to follow FauzyLogic's lead and host your own party, let us at All Day DevOps know and we can help you out with organizing and promoting it on Twitter and our site. Check out this blog for more info on how to make your viewing party a total success.