An Audacious Plan
The global audience for DevOps is expanding faster than any one person or company can keep up with. While DevOps Days and other regional events provide invaluable support to their local communities, we want to create a global event, offering the best lineup of speakers. We also wanted to make sure that anyone, anywhere can attend -- so we set a high bar for our organizing team...and they delivered: $0 registration.
By creating an online event, we are able to get many people to attend and present, who would not ordinarily be available because of time or travel restrictions. We expect well over 1,000 people to attend throughout the day.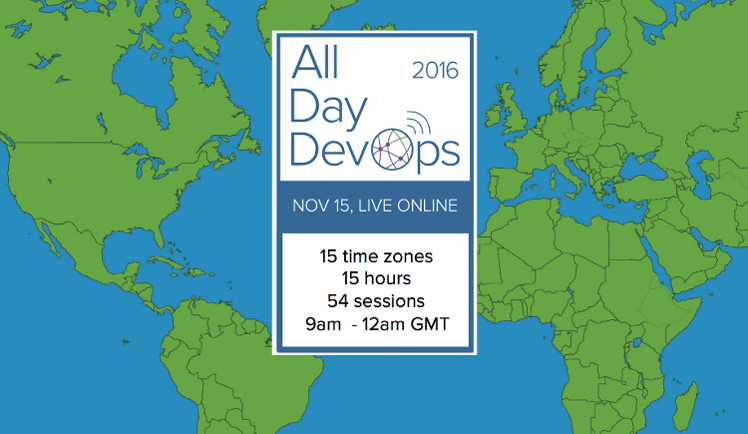 15 Time Zones, 15 Hours, 3 Keynotes, 54 Sessions
November 15, 2016 will see the first truly global, online DevOps Conference: All Day DevOps. Starting at 9:00am GMT, London (5:00am EST, New York), continuing through 12:00 midnight GMT, London (8:00pm EST, New York), there will be three, simultaneous tracks, each track containing 18, 30-minute presentations, for a total of 27 hours of presentations.
We are inviting speakers from around the world to participate in this first of its kind event, covering 15 time zones. Timing for the conference is set for the EMEA sessions to begin at 9:00am London time, then, at 9:30am EST, move the concentration of presentations to the East Coast of the USA, ending with presentations in the West Coast of the USA starting at 11:00am PST. All sessions will be recorded, but you will need to register for the event in order to have access to the recordings.
Call for Papers
The Call for Paper is live now: https://www.papercall.io/all-day-devops-2016. Please submit your paper soon. The deadline for submissions is September 21st.
Conference Tracks
There are three tracks: Modern Infrastructure, Automated Security and CI/CD. We'll have 54 sessions plus 3 keynotes, on three tracks, running continuously for 15 hours.
Track One: Modern Infrastructure
Modern Infrastructure Track Host and Moderator, James Wickett, Signal Sciences joined by Ernest Mueller, AlienVault and Karthik Gaekwad, Oracle
In this track, we will be discussing novel architectures, approaches, and tools for building out software and services. We are not looking for the standard approaches, but the way Infrastructure will be in the next 3-5 years.
Track Two: DevSecOps & Automated Security - Living the Dream
Automated Security Track Hosts Milton Smith, Oracle and Shannon Lietz, Intuit
You have a well tuned development and delivery environment or your in the process of building one. AppSec is a top business concern. You moved DevSecOps from Big Foot and UFO's to reality, you sold the dream to staff, and now it's beginning to pay off. This track explores DevSecOps tools and techniques to build a successful automated security program.
Track Three: CI/CD - Continuous Everything
CI/CD Track Host and Moderator Derek Weeks, Sonatype and Andi Mann, Splunk
Continuous Delivery is not magic, but it does take the right effort. The most successful practitioners have taken pragmatic steps to reduce cycle times, improve collaboration, and build quality in without burning people out. This track asks you to share your front line experiences of building CI/CD pipelines, aligning key stakeholders, and measuring the results. Remember, what's now an everyday experience for you, is awesome to other's pursuing that path.
How to I register to attend?
Registration is open now at AllDayDevOps.com. The site will be constantly updated, sometimes multiple times per day, with the latest information. You can also follow us on Twitter under the handle @AllDayDevOps and using #AllDayDevOps.
How will the sessions be delivered?
The sessions are delivered over Google Hangouts, allowing us to have an unlimited number of attendees on each of the three channels. All you need to deliver a presentation is a reliable internet connection.
Who is organizing All Day DevOps?
The All Day DevOps Conference is organized by advocates in the DevOps community. We are working together to deliver a diversity of vendor neutral sessions and speakers from around the globe to show practical usage and technical solutions of DevOps in small and large enterprises.
James Wickett, Signal Sciences

Derek Weeks, Sonatype

Shannon Lietz, Intuit

Milton Smith, Oracle

Andi Mann, Splunk

Mark Miller, Sonatype

Ernest Mueller, AlienVault
Karthik Gaekwad, Oracle