Guidelines Overview
All Day DevOps Viewing Parties sprang up organically during our first live online conference in 2016. Last year, we had over 150 viewing parties around the world, and we're hoping to continue that tradition. But, in 2020, we are suggesting new ways of getting together in a virtual environment to share and discuss the sessions most important to you as a team and a company.

Following are guidelines and suggestions on how you and your team can make it happen. Read through the guidelines, and if it sounds good for you, let us know you're going to be holding a party and we'll get you listed on the All Day DevOps site.
About Viewing Parties
Viewing parties provide an opportunity for people to engage with one another while viewing the educational content from All Day DevOps. There are two types of viewing parties:
Public, for anyone to join;
Private, for teams and companies.
ADDO will support your Virtual Viewing Party by listing it on the All Day DevOps site, and encouraging people to join your public event. The first 100 Virtual Viewing Party organizers will receive an ADDO swag package as our thank you for your support.
Planning Your Viewing Party
The most effective viewing parties define what they will be watching in advance. Are you interested in a specific track or topic? Review the agenda and select the session that will be most appropriate for your team.
We have found it useful for organizers to provide party attendees an advance copy of the sessions you will be watching. Inserting planned discussion times within your agenda will help your team get the most from the event.
All Day DevOps is a 24-hour event. Consider the time zone of most of your attendees and choose sessions most appropriate for that time frame. (As a reminder, all sessions are recorded — Registered attendees will have access to all 180 sessions recordings after the event.)
One fun thing we've found that works well is inviting attendees to have a lunch break together. For the our own viewing party here at All Day DevOps, we send DoorDash vouchers as a "Thank you" to our attendees. If budget allows, this is a great way to get your clients and team together to discuss the session "over lunch."
Options for Setting Up a Synchronized Viewing Experience
Option One : Two Devices per Attendee
In this set up, the attendees will need a screen — either a computer or a phone — to view the selected session on the All Day DevOps site. A second device is needed for real-time voice chat between the attendees. This can be done through a private Zoom meeting, or by using a platform such as Discord, which many gamers are familiar with.
The advantage to this solution is everyone will have their own stream for the session.
Option Two: One Screen per Attendee
As a host, you can set up a "shared" zoom session on your private account. You "share your screen," which displays the live session happening on the All Day DevOps site. Attendees log in to your private Zoom session and can discuss the session together.
The key to making this work properly is during the sharing process. When you, as the host, start to share your session, confirm that the "Share computer sound" is checked before you click the "Share" button (see the screenshot below). This will push the session's speaker sound directly through the shared session so everyone can hear in high quality audio.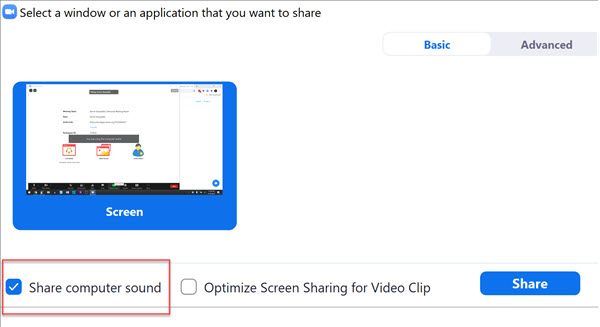 Have Fun With It!
We look forward to supporting your Virtual Viewing Party. Just because we are all working in a remote environment, doesn't mean we can't participate in shared experiences. Please let us know you'll be hosting your party, and send us pictures! Tag us on LinkedIn, Facebook, or Twitter, and we'll spread the word.
Thanks for your continuing support, and good luck with your party!
Nikki Mejer, ADDO Program Manager
nmejer@sonatype.com